Jewish Telegraph Agency
January 3, 2017 10:33am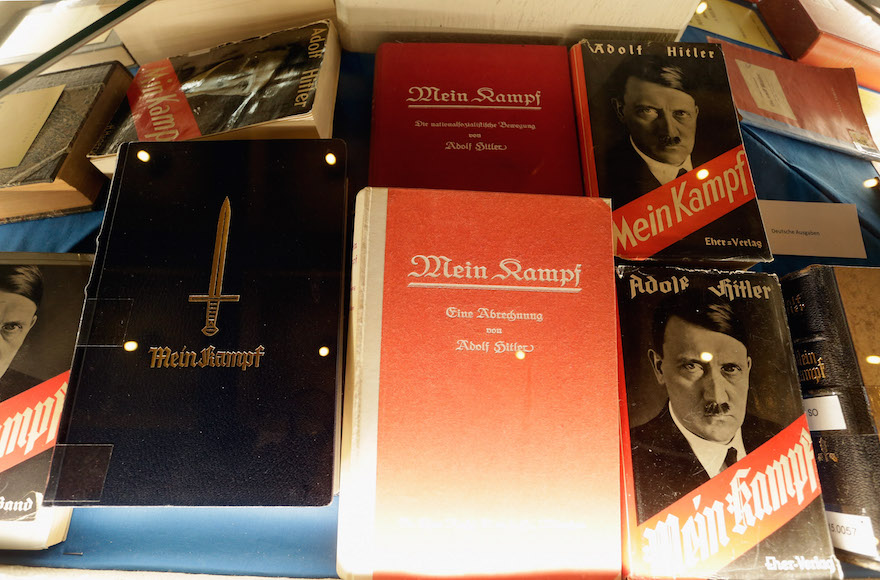 (JTA) — The annotated edition of Adolf Hitler's "Mein Kampf" sold 85,000 copies in the one year since it was released in print for the first time since World War II.
"Hitler, Mein Kampf: A Critical Edition" is in its eighth printing, according to the Spiegel newspaper, which noted that the book topped its best-seller list in April.
The 70-year copyright in the German state of Bavaria of the anti-Semitic tract, whose title means "My Struggle," expired on Jan. 1, 2016, allowing it to be published in the country. The publication was controversial: Some Jewish groups endorsed the annotated edition and others opposed it.
The Munich Institute for Contemporary History said it published the book to preempt uncritical and unannotated versions, and that it hoped the new edition would help destroy the book's cult status. Its first run of 4,000 sold almost immediately, the German dpa news agency reported.
"It turned out that the fear the publication would promote Hitler's ideology or even make it socially acceptable and give neo-Nazis a new propaganda platform was totally unfounded," institute director Andreas Wirsching said in a statement to dpa.
"To the contrary, the debate about Hitler's worldview and his approach to propaganda offered a chance to look at the causes and consequences of totalitarian ideologies, at a time in which authoritarian political views and right-wing slogans are gaining ground."
Other editions of "Mein Kampf" remain available for purchase via the internet.
Comment:
Wirsching - who is Jewish - has got it backwards. Yes, the republication of "Mein Kampf" is not causing the rise of National Socialism in Germany, but rather the rise of National Socialism in Germany has caused the book to be a best seller. It doesn't seem to be stopping the spread of NS, that's for damn sure.
Even though this edition is edited and annotated by Jews, most of the German people are smart enough to know that every critical annotation in the edition is colored by the Jews' hatred of Hitler and National Socialism.
The movement is constantly growing and they can't seem to stop it.
Despite what the publishers say, they did not republish "Mein Kampf" to "educate" people on the evils of Naziism, but to make as much money as they can. Many of those involved are indeed Jews and this little bit of avarice on their part is only going to come back and bite them on their Kosher asses.
I myself am truly gratified that after 70 years the Fuhrer's message can now be legally spread in the Fatherland. HAIL VICTORY!
Dan 88!