by LIAM DEACON1 May 2016111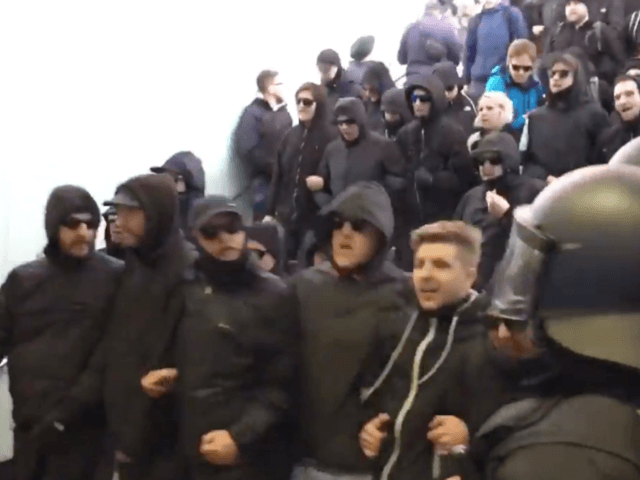 Hundreds of so-called 'anti-fascists' have rushed a line of police in Germany, after they were prevented from clashing with Neo-Nazis. They threw bottles and fireworks, injuring two police officers.
Around 2,500 'anti-fascists' – 500 of whom were involved in the violence – had turned up in the West German town of Bochum to oppose a march by the neo-Nazi National Democratic Party of Germany (NDP).
The NDP have been described as, "the most significant neo-Nazi party to emerge after 1945", but have always failed to register more than five per cent support at the polls, or win any sort of representation in the Germany legislature, the Bundestag. However they have won local and state elections and their support has been growing lately. There has even been talk of making a run for chancellor in the next election which is of extreme concern to the Left.
According
to
Bild
, a p
olice cordon near the train station met the 500 'anti-fascists' as they arrived in Bochum from the nearby cities of Dortmund and Essen.
The police had resolved to keep them separate from the Neo-Nazis, to avoid the city descending into open street violence.
Realising this, the left-wingers became aggressive; many of them covered their faces, and then charged the police position in a coordinated attack.
According to a police statement, there were "serious riots", where "pyrotechnics, stones, bottles and smoke bombs were thrown at the [police] forces", injuring two officers who "are no longer fit for duty".
Officers were forced to respond with pepper spray, sending the rioting mob into retreat.
"In the narrow passage of the station, a policeman uses a massive pepper spray against a large group of counter-demonstrators…
As weaponry in the war…," explained one of the 'anti-fascists' on a left wing live-blog.
Violent left-wing activists have had a busy weekend in Germany. Yesterday, around 400 were arrested in Stuttgart as they attempted to prevent the Alternative for Germany (AfD) party from starting their annual conference.
Despite received warnings from the police, the activists threw fireworks and flares at police officers. Police responded with water cannon and
pepper spray.

Comment:
National Socialism has returned to Austria. Now it is growing in Germany as well. No surprise at that. If fact, the worse things get over there, the better it will be for a complete return of National Socialism.
The evidence shows we are winning in Europe. Now if only we could get our collective asses in gear in America perhaps we could actually make some progress.
Hopefully, our European victories will inspire more of us to take action because it proves we can win - but only if we are willing to work and sacrifice. Do you thing these victories were easy? No way. Those who made them possible worked their asses off. They sacrificed and did whatever was necessary. Now their years - no, DECADES of hard work are paying off.
Sometimes you get lucky and victory comes quick and easy, but not usually. Hitler worked for over 12 years before succeeding.
If you're looking for a quick victory, you had better forget about it. But if we do win, those victories will be all the sweeter.
Dan 88!