By Libby Brooks, Scotland Reporter
One of the largest discoveries of Viking treasure in Scotland has been unearthed in Dumfries and Galloway.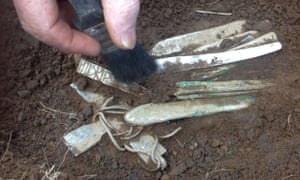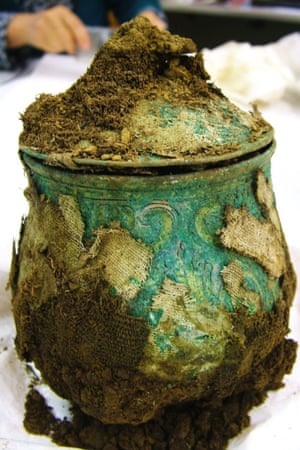 More than 100 objects, including solid gold jewellery, arm bands and silver ingots, were discovered by a metal-detecting enthusiast on church land in September.
The artefacts, thought to have been buried between the mid-ninth and 10th century, include an early Christian cross made of solid silver, with unusual enamelled decorations.
Derek McLennan, 47, a retired businessman, said he had gained permission to search the area, but had been feeling unwell on the day. "I dragged myself out of my sickbed because I had two friends who wanted to detect and I'm a bit of an obsessive."
He said he initially failed to recognise the significance of his find. "I unearthed the first piece; initially I didn't understand what I had found because I thought it was a silver spoon and then I turned it over and wiped my thumb across it and I saw the saltire-type of design and knew instantly it was Viking. Then my senses exploded." Further digging revealed a second layer of artefacts.
Describing the find as "historically significant", Stuart Campbell, head of Scotland's treasure trove unit, said one of the most exciting objects was an intact Carolingian (western European) pot with its lid still in place, a rare vessel likely to have been an heirloom held by the family that buried the hoard. Campbell described the examination of the pot, which has yet to be emptied, as "an excavation in microcosm".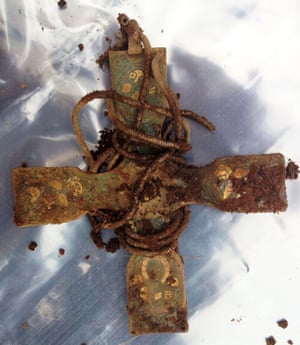 He added: "What makes this find so significant is the range of material from different countries and cultures. This was material that was buried for safekeeping, almost like a safety deposit box that was never claimed."
Campbell said that a find like this could also influence the way Scots viewed their historic relationship with the Vikings. "We have the idea of Vikings as foreigners who carried out raids on Scotland, but this was a Viking area where they settled and traded, and the people who lived there were culturally and linguistically Norse."
The hoard falls under the Scots law of treasure trove, which provides for a reward to be made to the finder, and the Church of Scotland, as the landowners, have reached agreement with McLennan about an equitable sharing of any proceeds.
The Scottish government's culture secretary, Fiona Hyslop, said: "It's clear that these artefacts are of great value in themselves, but their greatest value will be in what they can contribute to our understanding of life in early medieval Scotland, and what they tell us about the interaction between the different peoples in these islands at that time. The Dumfries hoard opens a fascinating window on a formative period in the story of Scotland."

Comment:

I'd just like to point out that if we don't do something to stop our own annihilation, archaeological artifacts maybe all that is left of us in another 1000 years. Think about it.
Dan 88!